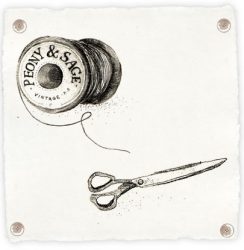 We offer a fully bespoke curtain and blind make up service in house at Peony & Sage.  Our curtains and blinds are hand finished to allow the movements of linen. If you are interested in a quotation, please fill out the quotation forms below and we will get back to you within 24-48 hours.  We allow 4 – 6 weeks for printing and make up.  If the fabric is in stock we can turn around curtains in two to three weeks.  Currently all our blind enquiries will be handled by Jo Cook Bespoke Blinds – do email her at workroom@peonyandsage.com and curtain orders by ourselves at sales@peonyandsage.com.
Click here for a quotation for curtains Purchase Curtain Poles
We offer a fully handmade Roman blind making service.  If you just fill in the form below we can offer you a quote. Turnaround is 4-6 weeks from payment. We can customise your accessories to go with your curtains, just email us with any accessory requirements at sales@peonyandsage.com
We also supply beautiful curtain poles, double click on the link above and again on the image for Byron and it will download a catalogue for you. All sets come inclusive with brackets, finials and rings.
For curtain poles, click on the above link and download the Barnwood Brochure our personal favourite is the St. Ives Finial, Barnwood White which is a Grey Green in 45mm diameter (you can have 35mm) available in any length and takes 1 week to order.  Email us your choice for a quote to sales@peonyandsage.com
IMPORTANT NOTE: ALL CURTAIN MAKE UP MEASUREMENTS GIVEN TO US ARE THE CUSTOMER'S RESPONSIBILITY.  IT IS ESSENTIAL THAT YOU FOLLOW THE INSTRUCTIONS ON THE FORM.  IF IN DOUBT, SEEK THE ADVICE OF A PROFESSIONAL.  WE THINK THAT CURTAINS ARE ALWAYS BEST A BIT LONGER THAN TOO SHORT.
Blind Quotations
Click here for a quotation for Roman blinds
Some examples of our handmade curtains and blinds are listed below.  All of our blinds are handmade to the highest of standards by Jo Cook Bespoke Roman Blinds, you can look at all the examples of her beautiful workmanship on Instagram @jocookbespokeromanblinds
Bespoke Lampshades
We can offer bespoke lampshades in all of our prints but there is a minimum order. However if you would like a shade in one of our Plains or Brushed linens, potentially to match your curtains or blinds we can do this as a bespoke offering.  Please contact Suzy Mugridge of Ted & Lily for details: tedandlily@yahoo.co.uk
Please find below some examples of our work, (the image of the Kashmir Blinds is actually by Victoria Clark Interiors but this is just to illustrate the pattern)