Handmade Vintage Style Eiderdowns {Single & Doubles now available} From £395.00
£395.00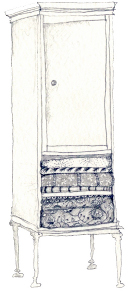 Standard Single 110 x 160cm Sweetpeas & Rose Dots £395.00 – Stunning handmade feather filled eiderdowns made in any of our linen fabrics.   If you want to order a double let us know your desired measurements.  These are handmade in England.
Featured in photos:
A selection are featured here including Mathilde in Faded Blossom and Jade with Blue Gray Stonewashed Linen, Sweetpea and Roses with Rose Dots, Millie Antique Nudes, Posies Raspberry and Mint with Summer Stripe. We have also made lots in Rabbit All Star with Eva Stripe for girls and Cowboys with Stars for boys.
PLEASE NOTE PRICES ARE FROM £395.00 some eiderdowns require stonewashed linens backs making them ore expensive or are from our more expensive printed linens.
Only 2 left in stock