*NEW* Diddidowns {Eiderdowns for little people}
£1.95 – £265.00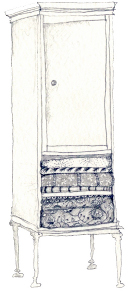 We have made these gorgeous new feather & down filled "Diddidowns".   Smaller in size than our single eiderdowns to work as a footer on a single bed.  They have been made in our white Percale Cotton to make them more cost effective for little rooms.
Each one measures:
90cm x 130cm
Piped Finished
Handmade in England
We have 4 colourways available:
Paisley Seamist, with underside in Summertime Seamist and Pink Slip 100% Cotton
Paisley Perfect Pink, with underside in Eva Stripe Pale Pink Icing 100% Cotton
Delilahs Rabbit Slate Blue and Lime, with underside in a lime green Eva Stripe 100% Cotton
Rabbit All Star Pink, with underside in Eva Stripe Pale Pink Icing (this one will be in our standard linen/cotton mix)
Mini Paisley Morrocan Pink and Eva Stripe Pale Pink underside
Please check stock before ordering, if not in stock please allow 6-8 weeks to make by hand.   Don't forget we can make memoboards, lampshades and buntings to complete your kids bedrooms. Any queries please email sales@peonyandsage.com  We have put a few of our wallpapers and fabrics in the image library above to inspire you with suitable co-ordinates.