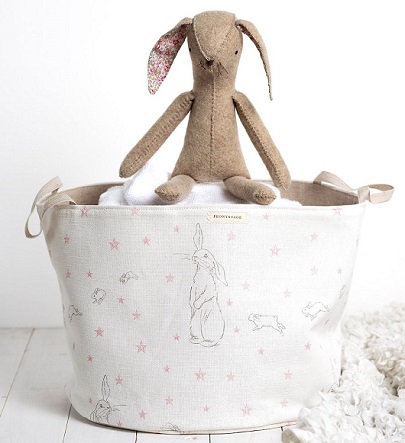 Toy Baskets in Rabbit All Star
Stunning "Toy Baskets" available in Rabbit All Star fabric.
A gorgeous and practical accessory for little ones.
These are not machine mass produced items. All lovingly handmade by the fabulous Louise Schofield of OLIVE+DAISY, she has some gorgeous prints of her own that would co ordinate with this design too.
Lined in a stunning plain flax linen. Please note the dimensions as we cannot refund due to size. They are not so tall to keep the price down and to self support. Please look at the dimensions. If you would however like a larger one. We can offer you a Kindling Bag like our Star ones, if you order that and state on your order notes "Make in Rabbit All Star as a large Toy Basket" we can.
Dimensions: 30cm d X 29cm h
If out of stock please allow 14 working days to make and ship.
Do you want to ask the maker a question? Please do just email her Louise at lsinteriors@live.co.uk